428 views
---
There's no one-size-fits-all answer to this question. Both will have logistical challenges. In the case of American factories, so much of the manufacturing base has moved overseas that you may not be able to find a factory that can create your product, and not all product categories are covered. In addition, American factories can be more expensive than Chinese.
Why would you go local instead of overseas, then? There are a few reasons.
Branding. Some audiences will respond better to an American-made product, which lets you incorporate that in your branding for a better appeal.
Minimum order size. Depending on what your product is and what kind of demand you're expecting, the order size may be a factor. You can often order a smaller amount of product from an American factory than one abroad, which may be important if you don't want to keep a lot of inventory on hand.
Easier verification. It can be hard to know what you're working with if you're dealing with an overseas factory. If you need help, platforms like Sourcify can help with vetting and verifying quality manufacturers.
Faster shipping time. It takes time to get product to the port, across the ocean, to your port, through customs, and finally to your location. When it's being made domestically it doesn't take nearly as long.
So why go with Chinese and overseas factories over local?
Cost effectiveness. The Chinese and overseas manufacturers are usually less expensive than American equivalents, due to differing labor and material costs.
More variety. Many products aren't even able to be made in the United States anymore because the factories don't exist. You may have to go overseas.
Volume. Foreign factories tend to be comfortable with large volumes of products, which can help streamline the process as well as help you get a large quantity to start.
There are some problems that you can encounter if you prefer to go overseas, however, especially in China (the most common overseas destination for manufacturing work.)
Banned materials. You'll need to be very aware of this, especially in the prototyping phase, There's a long list of companies that have been burned by not paying attention to differing standards between the United States and China (one of the more recent examples is Lumber Liquidators who's laminate flooring was made in China and failed to meet health and safety standards because it contained high levels of formaldehyde, a known cancer causing chemical).
Tariffs. The United States recently implemented 25% tariffs on steel and 10% tariffs on aluminum from overseas (with certain exemptions), and this may play a role in how cost-effective overseas products can be. If in doubt, check the Harmonized Tariff Schedule to find out what you might wind up paying.
A variety of factors will play into your decision, but once you've decided which direction to go, you can dig into the grunt work of actually finding the factory. Most of what we'll cover here will deal with finding a quality factory in China.
WHERE DO I START MY SEARCH?
It's much easier to find a manufacturer now than it used to be.
When I started my eCommerce business, I was living in China and finding my products in the local markets. The products I was selling were sourced directly from the factory floor, which made it easier for me than it would be for someone overseas.
You probably aren't going to be in the same sort of situation, so you'll have to rely on the publicly-available tools to find a manufacturer. There are two general groups that these fall into:
Pre-screened platforms like Sourcify. This is the platform I built to pre-screen factories and make sure they're up to standard. My goal was to eliminate the hassle, frustration and language barrier that comes with finding a trusted Chinese manufacturer. There is a flat fee for the service starting from $799, but our clients have found that the time and money saved has outweighed the cost.
Open marketplaces like Alibaba and Global Sources. These are massive marketplaces, and there are just as many trading companies and wholesalers on it as there are actual manufacturers. Alibaba is huge, and they have a huge variety of producers, trading companies, and wholesalers rubbing elbows—with no easy way to tell which is which.
For example, can you tell from this Alibaba listing if these are suppliers, manufacturers or trading companies?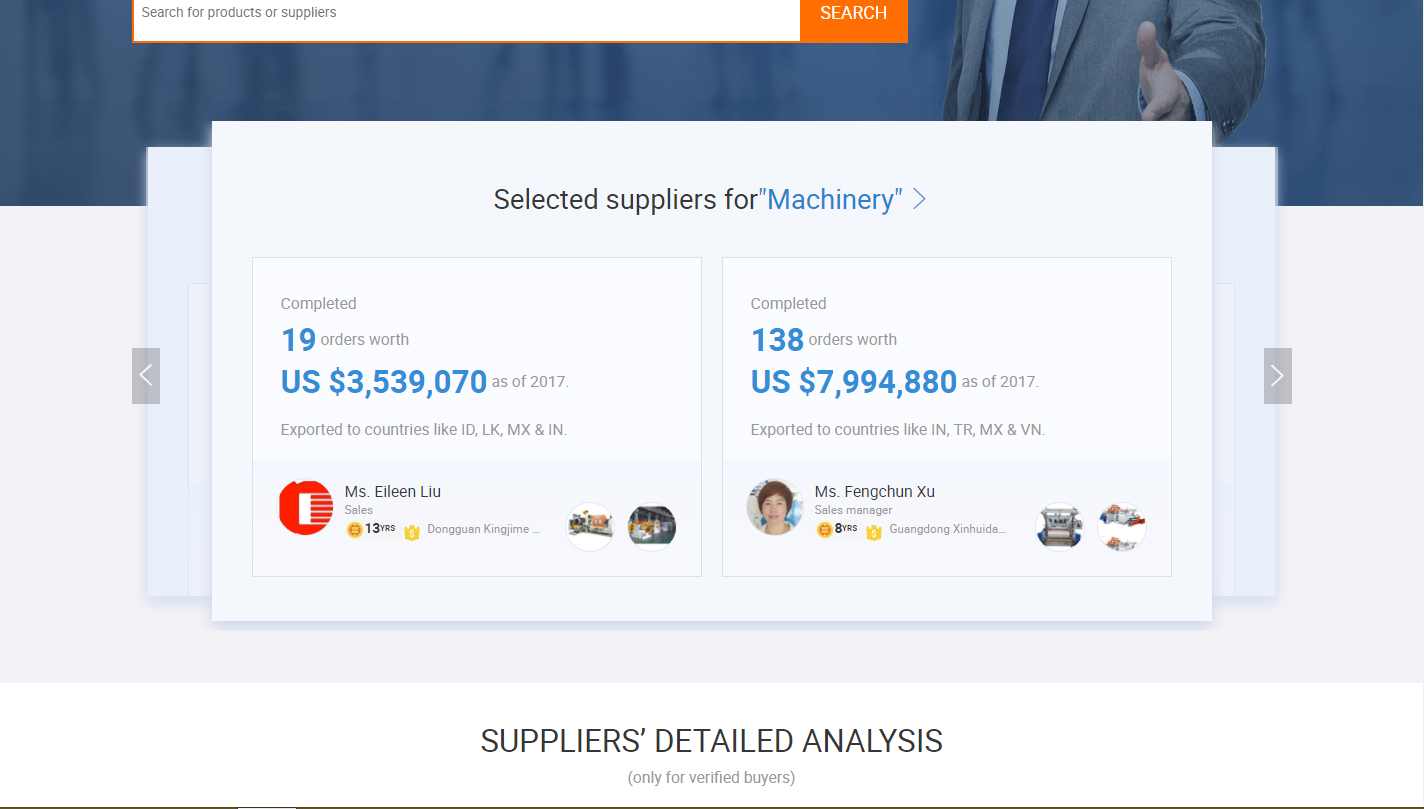 You can't always tell on Alibaba.
Global Sources is another traditional marketplace similar to Alibaba that's commonly used for overseas sourcing. When you start looking, there's a dizzying array of product categories, and as you start trying to narrow down it can be a little intimidating.
One way you can start to narrow your search is by filtering by "Verified Business Types" (pictured below).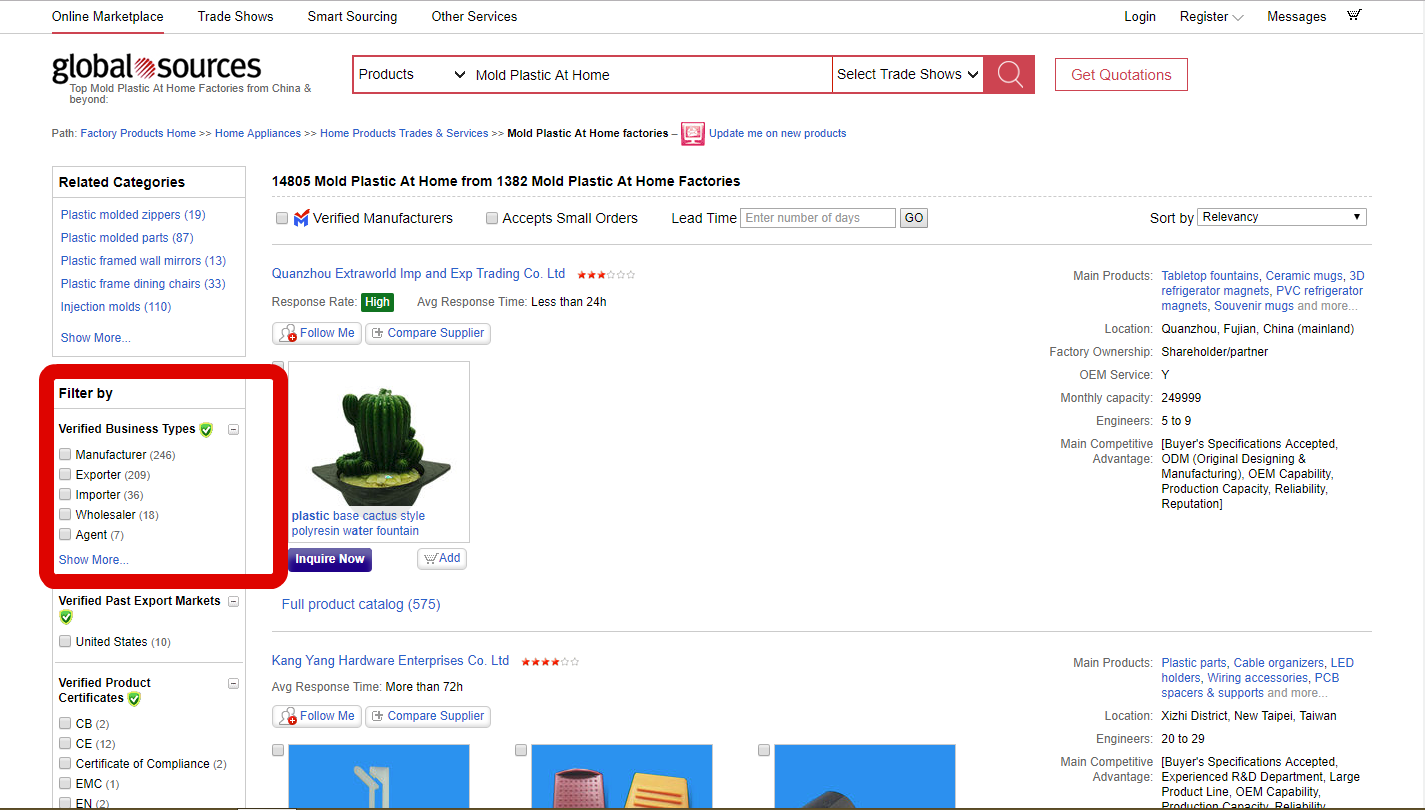 If you want to make sure you're buying from a factory and not a middleman, there are a few steps you can take. You can ask to see their business license, which should give you the information you need to verify they are who they say they are. Or you can use their location and business name to find their listing on China's State Administration for Market Regulation website.
Another thing to be aware of is checking to see a company has an email address registered to their own domain, not to a free webmail provider. It's much harder to know who you're dealing with if they don't actually have a website of their own. It only takes five minutes to set up a free email address, but you could deal with the fallout of picking a company that doesn't actually manufacture anything for much longer.
WHAT SHOULD I KNOW BEFORE CHOOSING A MANUFACTURER?
When you're choosing a manufacturer, you're choosing a business partner.
Think about the attributes you want in a business partner: flexibility, reliability, trustworthiness… you probably have your own list. Those are a good starting point.
As far as manufacturer-specific needs, here are a couple of tips you should think about at the very beginning:
Communicate clearly. Not everyone at overseas factories speaks English well. Some are using tools similar to Google Translate to read your emails. Avoid complex words that might get misunderstood, and keep your initial communications concise and to the point.
Lists are your friend. Laying out your questions in a list format makes it easier to make sure every question is seen and answered, whether you're dealing with English-speaking people or not.
Use multiple platforms. Don't just have one avenue of communication with a manufacturer. Make sure you have multiple ways to get in touch—email, phone, Skype, WeChat, or a variety of other methods.
Have multiple contacts. What if your primary point of contact is away or leaves the company? Can you get in contact with someone else? Establishing a relationship with multiple people on the other end can go a long way. You should have a primary contact that you talk to, but knowing who to talk to if they're away can save you both time and money.
Check that the company has an export license. This isn't often a problem, but it's worth being aware of. Factories that don't have export licenses can cause several problems:
They tend to be smaller.
They don't have as many (if any) English speakers.
You'll have to work your way through the complicated Chinese export bureaucracy instead of having it sorted out for you.
Most should have an export license—and if they don't, it's a clear sign of trouble down the line.
Ask for references and a signed non-disclosure agreement (NDA). This is good for establishing a baseline and making sure you're dealing with someone reputable, and while an NDA won't necessarily stop copycats, it does give you some legal status.
Know the local holidays and festivals. If you're doing business with overseas manufacturers, you'll need to know when national holidays and festivals fall. When will the factory be shut down, and when might your contacts be out of communication? Find out early, so you don't get blindsided.
If you're doing this up front, it can save you a lot of headaches down the line.
HOW DO I GET A QUOTE?
You've made it this far. Ideally, you're in contact with several manufacturers, and you're ready to send your plans or sample to the factory.
This is where the rubber meets the road. You want to make sure that you're providing the maximum amount of useful information to the manufacturer, and that you're getting a reasonable quote in return.
When you're working with your plans or samples, there are some things to keep in mind. Be aware of American regulations that may apply to your product—a quick web search of each material that you're planning to use can often make you aware of any major regulatory issues. California is usually the most restrictive American state as far as materials and environmental concerns, so if you're trying to determine how compliant your product will be, start there.
California Department of Toxic Substance Control has put together a list of regulations your products should abide by in order to be safe for consumers.[*]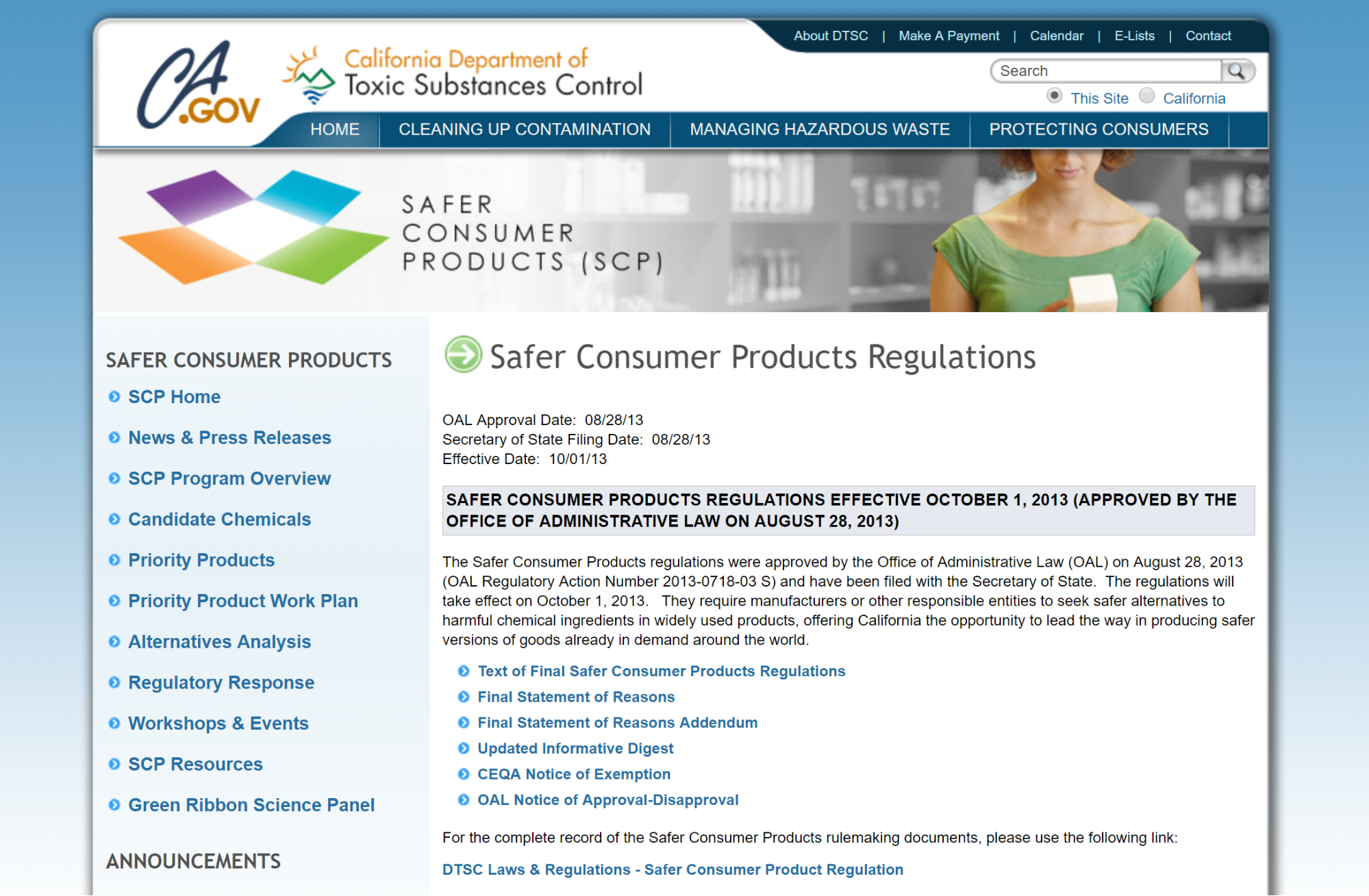 Make sure that you're providing detailed information to your manufacturer as well. A sample is ideal, but the more details you're able to provide the better. From dimensions to recommended materials, the more you can do up front, the less you'll need to do in the prototyping stage.
Here are five questions to consider when you're requesting a quote.
What is your minimum order quantity? This is often abbreviated as MOQ. Make sure it's manageable for you. Manageable doesn't just mean in terms of the initial price, either: you'll need to check how much storage space you have on hand, what you might spend in inventory taxes, and the other costs associated with carrying inventory.
What is your sample pricing? You may have to pay a little up front to get samples. Depending on the manufacturer, it may range from an adjustment of the final product pricing to completely free.
How much will my order cost? It might be good to ask for quotes for multiple quantities, as order volume may affect the price.
How long will it take to fulfill my order? Knowing the turnaround time is essential. Timing can be very important, depending on your business. This isn't just for the initial order, either—you'll need to know for future orders, as well. Knowing your lead times will ensure you're not out of product due to longer-than-expected manufacturing.
What will my payment terms be? If you're just starting out, you're probably going to have to pay up front. Be aware of that going in. You can also ask for future payment terms—they may change as the factory gets more comfortable doing business with you. Are there any setup charges for each order? Sort everything out at the start.
Be concise and friendly, and provide all the information needed. You can use my request for quote template below to fill-in-the-blanks and get quotes for your product.
---